History Of The Pub
Page Three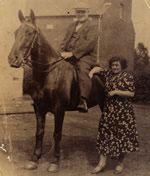 Ralph Barker (pictured right) introduced the Worthing range of beers into the Anchor Inn, where they sold well. This attracted the attention of Twist's White Horse Brewery, Wolverhampton Street, Walsall. The sale was agreed 22 January 1945, the price paid was £5,000 Os Od.
A wine licence was granted in 1936, and two years later Kidderminster magistrates allowed an experimental summer extension of half-an-hour, from 10:00pm to 10:30pm, between 11 April, and 1 October. The Anchor Inn received its full alehouse licence in 1951.
George Shelly Twist died in 1946, and the brewery continued to 1950, when, faced with heavy death duties, the business was sold to Atkinson's Brewery, Aston, Birmingham. The range of beers at the Anchor Inn changed again. Structural alterations were made in 1962.
Atkinson's Brewery was taken over by Mitchells & Butlers Ltd, Cape Hill, Smethwick, in 1959. M&B merged with Bass Radcliffe & Gretton 1961 to become M&B Bass Midlands.
Bass finally sold their breweries to the international Belgium Company Interbrew in 2001, sadly bringing to an end 225 years of brewing history.
Little changed over the years, the Anchor Inn is once again a freehouse. Moreover, continues in the tradition of the old English wayside inn.