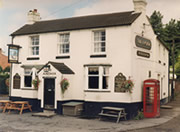 The Anchor, a pub with a real family tradition stretching back some 77 years.
An historic pub near Kidderminster, which cost just £1,800 in 1936 is priceless in the eyes of today's owners, who are celebrating more than 70 years of family tradition.
Pete and Jeanette Green are continuing to fly the family flag at the Anchor Inn, Caunsall, after Pete's grandfather Ralph Barker took charge in 1927. The pub is a testament to the good old days when Ralph introduced his own range of Worthing beers and kept pigs in the back garden. The interior has barely changed and Pete is still using the same tables and chairs his grandad bought in the 1920s.

Pete, aged 60 and Jeanette, 62, took over from Ralph in 1973 and the pair have been changing barrels ever since, bringing the family's regime up to 77 years. The couple have promised to keep pulling the pints for another few years yet, but their target of reaching the 100 year mark looks to be a bit too ambitious, unless their only child Jemma decides to step into their shoes.
"I've got beer in my blood," joked Pete. "My dad Jim also owned the Red Lion in Cookley and this is always something I've wanted to do.
After taking over the pub in 1927, Ralph bought it outright for £1,800 in 1936. He managed the pub and stayed there as a tenant until his grandson Pete and wife Jeanette made him proud by stepping in as managers in 1973.
They then purchased the Anchor in 1991. Pete said: "I don't think Grandad would see many changes if he saw the place now. The pub has stood the test of time and people are still as friendly."
The above was taken from an article in the Express & Star.
To find out more about the history of The Anchor, please click here.